Twitter profile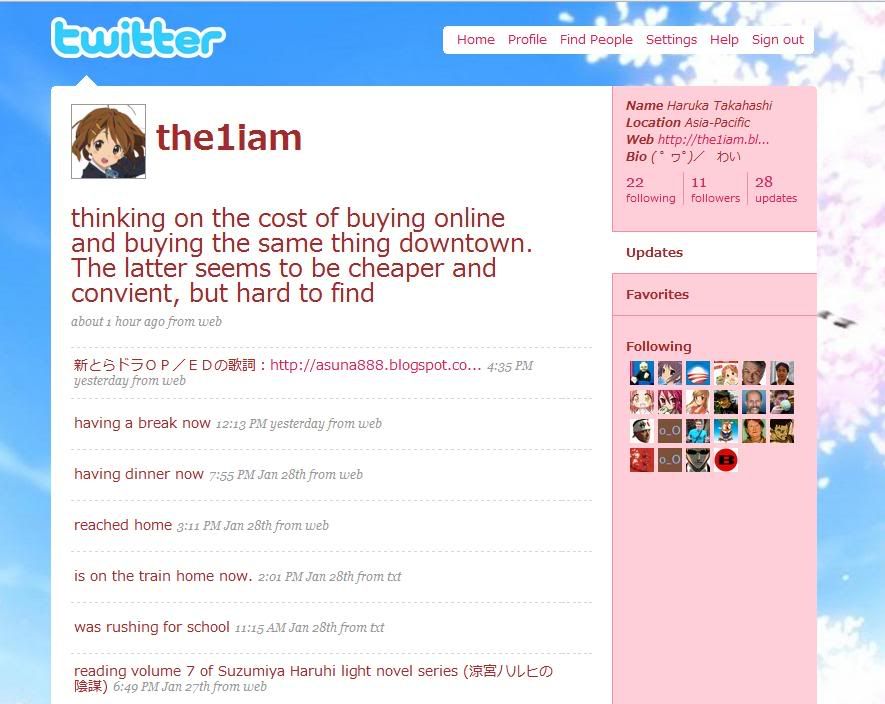 Link to Twitter Profile:
twitter.com/the1iam
I have joined Twitter about 9 days ago, after
a podcast site I usually listen to
 keeps mentioning it and out of curiosity on what it is all about. It turns out to be somewhat similar to the status updates on Facebook.
I can follow other people's updates, and others can follow mine. I did a check among my (real life) friends and it seems that only one out of the so many has an account. Compare that with Friendster, MySpace or Facebook.
To update my status, I can just type in there (at the "Home" link in the screenshot), or through mobile phone via mobile web or text message to a number mentioned there, as you can see for the first 2 entries for 28 Jan. For the latter option, you first need to enter your number (including the international prefix. eg. "+81") so they will know whose account to post it to when they receive.
I have set up on my Windows Live Profile (as Web Activities) and Facebook (as an application) accounts in such a way that they are immediately posted in those places as soon as I enter the status on Twitter, which is useful.