429th post: Theories of a possible new Haruhi season
(
cross-posted from the anime blog
)
There was the original Summer 2006 14-episode and the renewed Spring 2009 28-episode of
The Melancholy of Haruhi Suzumiya
(涼宮ハルヒの憂鬱), along with
The Melancholy of Haruhi-chan Suzumiya
(涼宮ハルヒちゃんの憂鬱) on YouTube shortly before the 2009 renewal.
At the time the renewal was announced, people thought that it was a repeat broadcast. However, people noted that it was aired in chronological order with some networks airing
The Adventures of Mikuru Asahina Episode 00
(朝比奈ミクルの冒険 Episode00) or
The Melancholy of Haruhi Suzumiya Part 1
(涼宮ハルヒの憂鬱I) first, along with extended scenes from the DVD. Even then, people still ignored it. It wasn't until 8 episodes later when
Bamboo Leaf Rhapsody
(笹の葉ラプソディ), a new episode with a new ending theme (there was no OP in that episode), that people started to pay close attention to it.
(People were expecting,
The Vanishment of Haruhi Suzumiya
(涼宮ハルヒの消失). I have earlier put up a
table timeline
based on the novel.)
First, there was a
surveillance video
(July 2007). Then the
main website was "down" and enter a password to continue, solve some puzzles, to get a message that the 2nd season had been "canceled"
, but renewed instead. Those who had read the novel might find something familiar about this. What is curious about this image is that it appeared in winter 2007, but had copyrights for the year 2008 and 2009.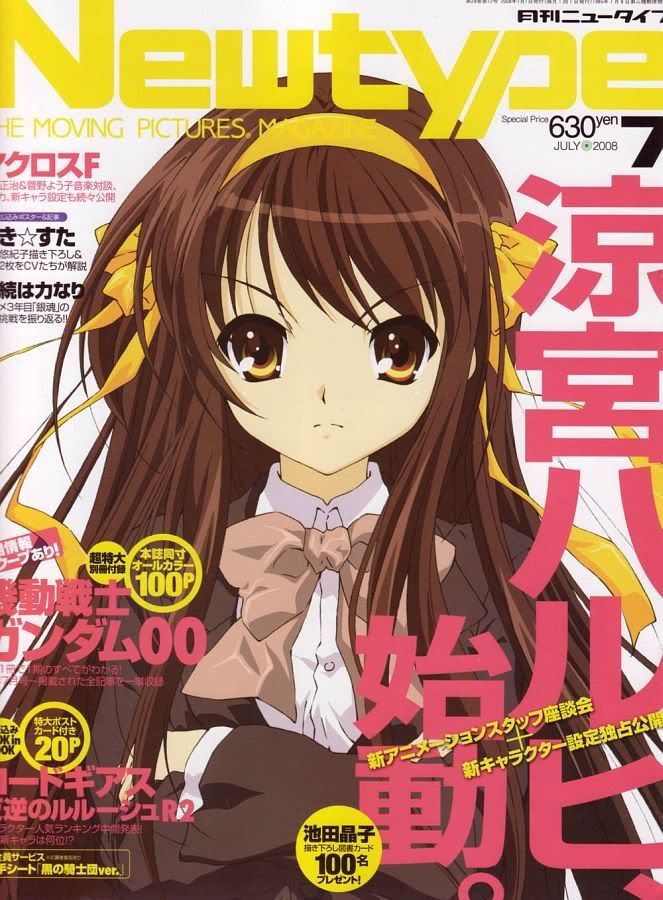 Another curious thing is that Haruhi in a black uniform in the NewType magazine (most notably July 2008; under the same publishing company as the novel) kept appearing.
When the new (renewed) season aired, titles of the following episode were either missing or deliberately wrong in the TV listings until the episode aired. People thought that there were 14 (28 total minus 14 from 2006) new episodes, but 8 of them were
Endless Eight
(エンドレスエイト) with minor differences between each, leaving with 6. If all of the
The Sigh of Haruhi Suzumiya
(
涼宮ハ
ルヒの溜息) were to be stitched together and with references to
The Adventures of Mikuru Asahina Episode 00
(朝比奈ミクルの冒険 Episode00), it actually flows quite nicely.
The sponsor screen (which commonly appears for 10 seconds after the intro & ending sequence/credits on free-to-air TV channels in Japan, including the news) image was of a girl (possibly Haruhi's CV) with the face not shown all alone. The uniform is obviously completely different from the usual North High (Sailor uniform: White blouse, cyan skirt) ones. Instead, it was a black blazer with a pink ribbon of a "prestigious all-girls school" (
erm...
) that somehow became co-ed. Her hair is also long.
I find it odd that that they showed "Disappearance" related material in the promo, but aired "Melancholy" instead. Since it's being aired chronologically as mentioned earlier, it could happen for the Autumn 2009 season, after the
Someday in the Rain
(サムデイ イン ザ レイン) episode, which is not too long away with 3-4 episodes left in the 2009 renewal of "Melancholy".